We are SO thrilled to be back at 120 Diner for a Saturday, December 3rd show starting at 8:30pm with ticket proceeds going to charity.
This will be a special show for two reasons. We will be joined by DRUMHAND as special guests to help us raise funds for Horizons Children's Centre located in the upper east region of Ghana.
Kylie, (4SKÖR's alto) spent time in Africa this past summer with Ghana Medical Help – a charity committed to providing medical aid to hospitals in the most northern Regions of Ghana to save lives and increase the quality of healthcare available. While there, she met a brotherhood of amazing boys at Horizons Children's Centre (HCC), a Canadian charitable project located in the rural town of Sandema, northern Ghana, West Africa. HCC's mission is to empower orphans and vulnerable children through education and the development of leadership and life skills.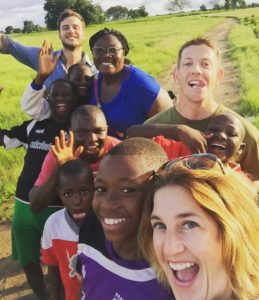 Upon returning home, and wanting to do more, she appealed to HCC's founder, Heather Menezes. The idea to bridge music, specifically voices and drums with the desire to help HCC raise funds for their centre, led to a decision to host a musical evening in support of the boys education.
But wait … what about adding an African inspired drum group to join 4Skör's vocal stylings for a unique night of entertainment? DRUMHAND, a group that began as a group of Toronto musicians meeting to workshop the rhythm-based music of Ghana, West Africa, and now known for their innovative, dynamic performances and artistic accessibility, was a perfect fit!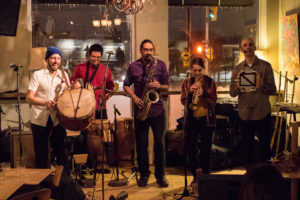 Please join 4SKÖR in their collaboration with DRUMHAND on Saturday, December 3rd at 120 Diner, for this must-see show.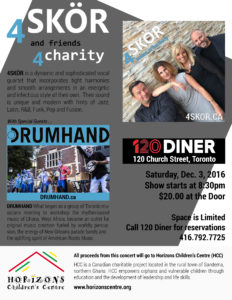 Tickets are $20 at the door, with all proceeds being donated to HCC. As seating is limited it's recommended that tickets be purchased in advance by phoning 416-792-7725 or texting 416-706-4237 to reserve your table.
See you there!